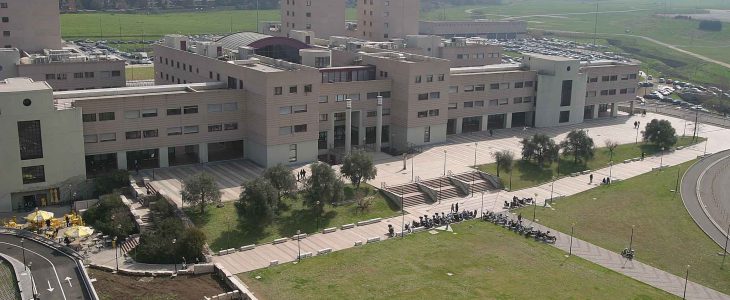 Who we are
The University of Rome Tor Vergata is a relatively young University (founded in 1982), however, despite its young age, it has already reached high-quality academic standards in Italy and Europe. It reached number 33 in the worldwide ranking of the "Top 50 Under 50" QSRankings in 2014. Tor Vergata is located in the South-East Metropolitan area of Rome. It consists of 6 different faculties:
Economics
Engineering
Humanities
Law
Medicine
Sciences
The University follows an "English-styed" campus; where it extends over 600 hectares. Furthermore, it hosts important research institutions such as the CNR and the Italian Space Agency (ASI). Many other centers are located close to the University including:
ENEA
ESA-ESRIN
National Institute of Astrophysics
Monte Porzio Catone Observatory
National Institute of Nuclear Physics
The presence of these important centers have contributed to turning Tor Vergata into a dynamic research pole.
In addition, the Campus is home to one of the most modern hospitals in Italy- Policlinico of Tor Vergata (PTV). The Hospital is a care and research centre and is closely associated with the University of Tor Vergata- it is where our students do their clinical experience. The University has approximately 44,000 students (5,000 of which are International), 1,400 lecturers, 900 administrative and technicians. The University offers a total of 112 degree courses (3-year courses, 5-year courses, masters degrees) and 31 PhD courses. programs. Moreover, "Tor Vergata" teaching encompasses 162 post lauream courses (advanced training courses, 1st and 2nd Level Master Degrees) and 52 postgraduate schools. The offered training covers more than 200 professional figures and possible career opportunities. 21,000 internships and traineeships are provided in Italy and abroad. The University of Rome Tor Vergata is structured in 6 Schools (Economics; Law; Engineering; Humanities and Philosophy; Medical School; Mathematics, Physics and Natural Sciences) which are organised in 19 Departments.
Some of these courses are entirely taught in English:
Economics : B.A. in Global Governance, B.A. in Business Administration, B.Sc. in Business and Economics, M.Sc. in Business Administration, M.Sc. in Economics, M.Sc in European Economy and Business Law, M.Sc. in Finance and Banking;
Engineering : B.Sc. in Engineering Sciences, M.Sc. in Mathematical Engineering;
Medicine: Single Cycle Degree in Medicine and Surgery, M.Sc. in Physical Activities and Health Promotion;
Pharmacy: Single Cycle Degree;
Sciences: M.Sc. in Physics for Instrumentation and Technology, M.Sc. in Astrophysics;
Humanities: M. in European History – MEH.
A University that is open to the world
The University of Rome Tor Vergata is fully engaged in promoting an international dimension of studies and hence participates more and more actively in international research. Its key objectives include promoting joint degrees, developing international mobility for students and the faculty, as well as enrolling and training foreign students.
In keeping with this vision 13 degree courses and most of PhD programmes are taught in English. In particular:
"Tor Vergata" is the first Italian University organising an English-only degree in Pharmacy (5-year course) in cooperation with the prestigious School of Pharmacy of the University of Nottingham and Alliance Boots;
12 PhD programmes see a cooperation with foreign Universities (joint degrees).
As far as international relations are concerned, the University of Rome Tor Vergata counts more than 500 bilateral and cultural/scientific cooperation agreements with partner Universities worldwide to promote joint research programmes and academic exchanges. Among those the most prestigious Universities of Brazil, but also the George Washington University (for bilateral student mobility with traineeships from 4 to 8 weeks – for the first time in Italy); Harvard University (to support innovative teaching and research programmes, clinical practice, fight against cancer and exchanges for the best students and researchers); the University of Oxford; the University of California, Irvine (to promote cooperation in science and didactics through joint programmes and research projects, academic activities and training in fields of shared interest).
As far as the Erasmus+ call for study 2014-2015 is concerned, 900 mobility grants for 673 signed and funded agreements were set up. The most recent Erasmus+ agreements feature the world-class University College London.
According to the ranking made by the Italian Ministry of Education (2012), our University is considered the fifth in Italy for merit. It is also the best University in the centre and south area of our nation. These are the three benchmarks considered essential for the required quality:
The international level of the Schools;
The capacity of obtaining public and private financings;
The capacity of the students to conclude the cycle of studies regularly.
In recent years the University of Tor Vergata has included programs entirely taught in English in its training of international degree, whose quality is guaranteed by the presence of international teachers. Tor Vergata is placed at the third position of the ranking of the Italian Universities (2012) for the number of courses taught in English. (Sole24 Ore)
The University Hospital, the flagship of the university, is equipped with the latest diagnostic and therapeutic structures and has become a reference model at national and international levels.
Tor Vergata is extremely active in promoting international projects of research. The University counts 99 projects recognized in the whole world, especially in Europe.
Our recent best result (2011), which makes us very proud, is to be the unique Italian University which has received international financings from the European Community for the ERC IDEAS program. The satisfying number is of 5 approved projects, dealing with original ideas and new approaches in the field of research.
Three of them have been elaborated by our Department of Mathematics which is nowadays well-known as one of the most honourable in Europe, one project by the Department of Physics and the last one by the Department of Engineering.
Our Medicine and Surgery Programme merges the extensive high standard academic knowledge which is typical of Italian Universities with a highly clinical environment which is associated with the "English-Speaking" Universities.
Our courses were designed to be made of small classes (25 students)(10 out of 25 spots are reserved for non-EU students). This creates an international and social environment and also allows lecturers to closely monitor each of the students individual academic needs.